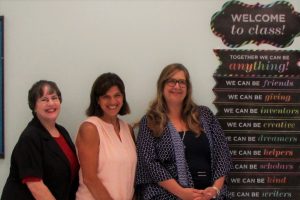 The Neighborhood Center, Inc. and The Community Foundation of Herkimer & Oneida Counties have recently partnered to make an impact that will help to improve the well-being of the neighborhood by empowering citizens and providing innovative, entrepreneurial support to build a stronger community.
The $100,000 investment made by The Foundation will help The Neighborhood Center offer a true community center that houses offices, programs for at-risk youth, School Age Child Care, a community gym and meeting space, and an energy efficient, environmentally friendly geothermal HVAC system. The renovation and repurposing of the Delorio's Bakery allows The Neighborhood Center to centralize systems, provide an uplifting space for healthy development and the opportunity for agency and program expansion. In particular, this grant has funded the creation of a safe and nurturing 'home' for at-risk youth to build connection to home, school and community, working to ensure youth graduate from high school, improve their grades and develop the assets they need to be successful adults.
This project has begun to lay a foundation for economic development in our community: utilization of a local architect, contractors, labor, materials and furnishings. In addition, at the Dr. Marie A. Russo Neighborhood Center, we will host informational sessions for individuals wanting to start a home day care business and Circles® meetings for those who want to move out of poverty.